Construction Enclosures
Our enclosures and platforms can be rolling or static. Customized RDS roof systems are bolted to scaffolding to accommodate projects requiring substantial building spans.
Temporary Engineered Environmental Enclosures
RDS temporary enclosures are customized based on the project needs of our clients. From residential to large scale commercial projects, our patented aluminum framing materials allow our engineers to design an agile enclosure solution. Our rolling enclosures can be up to 500′ long x 100′ clear span, and they are still easy to move. Our patented curb system provides a water tight seal. Enclosures can be designed to prevent dust and debris from contaminating the environment while the air filtration within the project facilities ensures a clean, safe working environment. Our systems allow contractors to completely control blast media during paint removal and control paint overspray for both indoor and outdoor projects.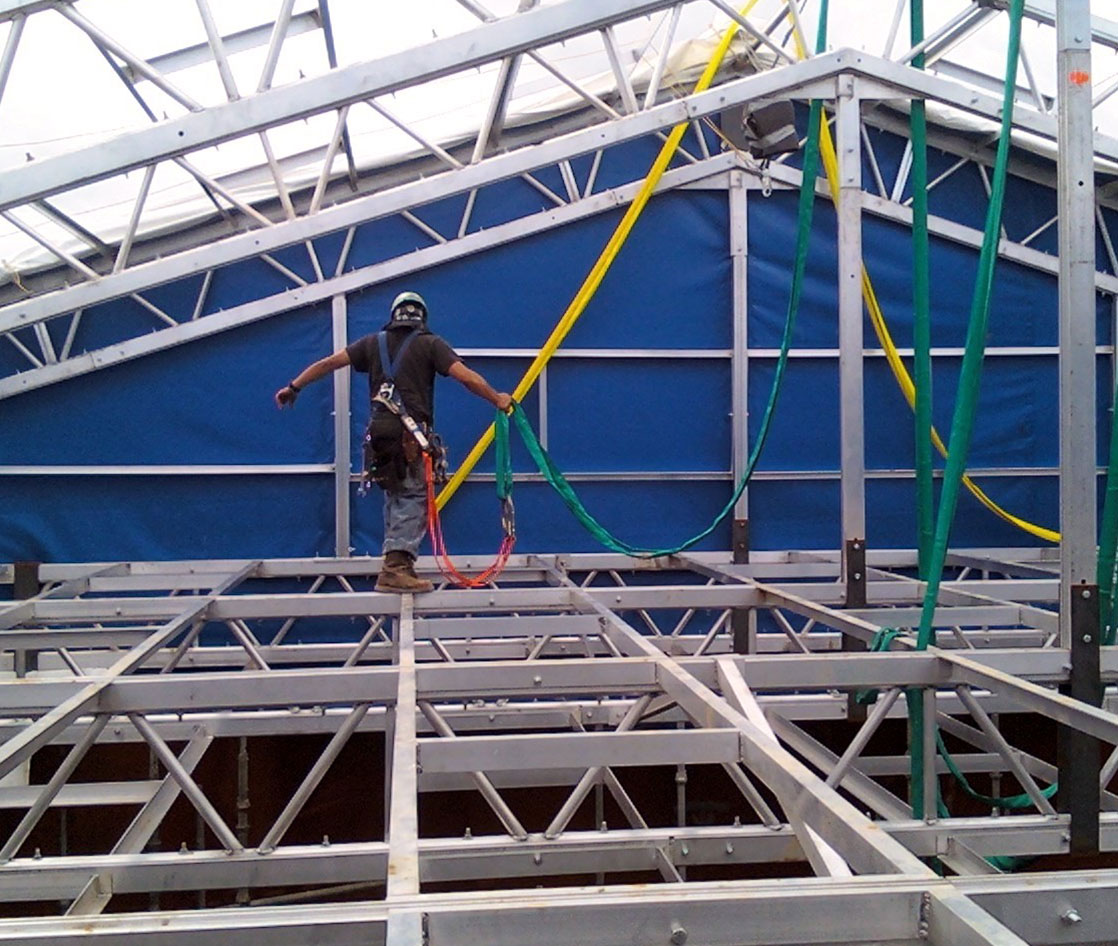 Complete Environmental Control
The protection provided by an RDS enclosure goes far beyond shielding from wind and rain. Our advanced technology and expert installation process allow for complete humidity and temperature controls for painting or resurfacing projects. Extreme hot and cold temperatures are no longer an issue when construction projects are conducted in climates where the temperature often interferes with the ability to keep a project on schedule.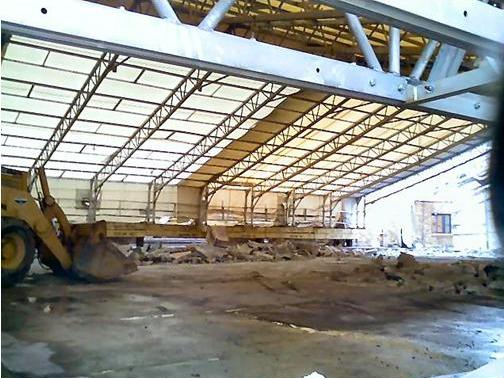 Static Enclosure & Roof Systems Projects
Ambassador Bridge – RDS provided a full enclosure including platforms and access decks on the main tower on the US side of this well-known Detroit bridge. This project was with Seaway Painting.
Army Corps of Engineers – RDS provided a unique lock enclosure for Army Corps of Engineers.
Bayer Pharmaceuticals – RDS engineered a roof system clamped to scaffold to enclose the demolition site of a plant building. The project was directly adjacent to another facility that could not be exposed to any dust resulting from the demolition.
Intel – RDS installed a large span roof system and a rolling enclosure at the Intel facility in Portland, Oregon. The contract was with F.D. Thomas.
SC E & G – RDS provided a Platform and Roof system combined that was craned on top of an open top tank 200' high. This enclosure was engineered for 130mph winds.
Walt Disney-MGM Studios – RDS provided several RDS Roof Systems that were clamped to scaffolding.
Rolling Enclosure Projects
Boeing – RDS have worked in the new facility in Charleston providing a large 125′ Span x 240′ Long RDS Rolling Enclosure inside the existing plant building. We are currently operating in Boeing Everett Washington in a unique RDS Goal Post type rolling enclosure.
Coney Island Parachute Ride – RDS provided a rolling enclosure and two round roof systems clamped to scaffold.
Duke Power – RDS provided a unique rolling angle pipeline enclosure for Duke in the mountains of North Carolina. This project was with Phillips Industrial.
U.S. Space & Rocket Center – RDS provided a unique rolling enclosure for the U.S. Space & Rocket Center to enclose a Saturn Five Rocket. This project was with UHP Projects.
Rolling Platforms:
Ashley River Bridge – RDS Rolling Platforms for access both underneath and on the sides of the Ashley River bridge. This system clear span was 50' it was 54' long 30' high and moved easily.
Clemson Swimming Pool Project – This 70′ rolling platform was decked with plywood and included small rolling scaffold towers on top to provide access to roof lights without damaging the pool lining. This was a project with Sunbelt Scaffold.
You'll be amazed by what we can build!
Call us now
854.444.3918