Custom Ship Solutions
RDS takes pride in finding workable solutions for difficult or unusual situations.
Workable Solutions for any ship
The ability to configure the RDS System into virtually any shape has allowed the development of systems for the forecastle ("focsle") or front deck of ships as well as for any of the often tapered aft (rear) flight decks.
These custom ship enclosures balance on the deck edge of the vessel allowing the contractor to repair the whole deck area while the enclosure is in place.
We have completed contracts on DDG, CG, LSD, LPD, and we are currently working on USNS ships.
These systems are continually being improved. 2016 will see the first RDS four-sided chord enclosures. This patented chord system is what is used when building house frames engineered to withstand category five hurricanes.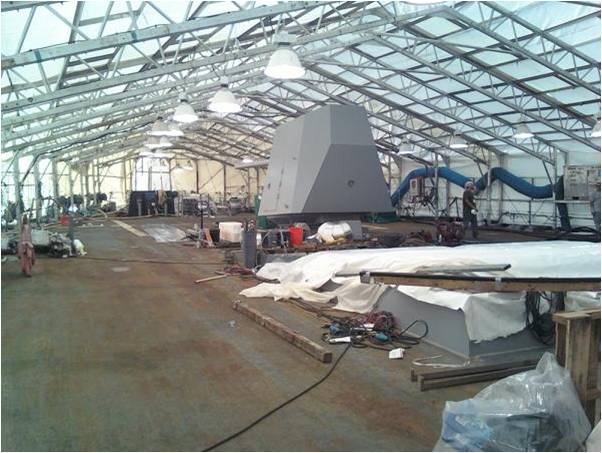 Custom Ship Enclosure Projects
BAE, U.S.
BAE Systems, UK – HMS Queen Elizabeth Aircraft Carrier
Navy Research Lab (NRL) – Thermal Spray (TSS)
MARCOM Services
Main Industries
MHI
NASSCO
NRL
Premier Scaffold
Thermal Spray Solutions (TSS)
UHP
You'll be amazed by what we can build!
Call us now
854.444.3918