Roof Systems
Customized RDS roof systems are bolted to scaffolding. This allows our roof systems to meet safety requirements for projects requiring substantial building spans.
Static Roof Systems
RDS Roof Systems come in many shapes and sizes. From round to rectangular, peaked to flat, these systems are often used in conjunction with traditional scaffold, though each is designed to address specific project requirements. These systems have been mounted directly to buildings, tanks, scaffold and RDS access systems on projects where the site would otherwise be adversely affected by environmental conditions.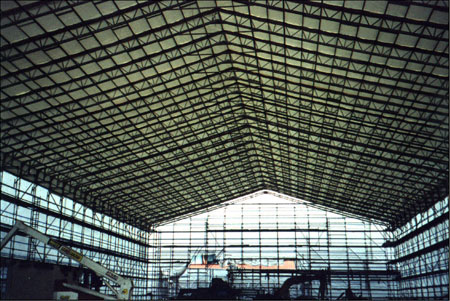 Round Roof Systems
Our engineered round roof systems can span up to 100+ feet in diameter. We custom make pulins and connect trusses to form a circular framework. These round roof systems have the ability to be used directly on tanks or attached to traditional scaffolding.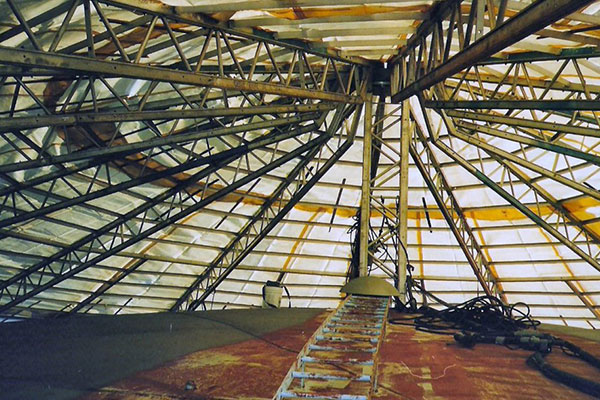 Additional examples of the many ways the RDS system can be reconfigured to fit the needs of the job include:
Power Plant System – In power plants, we created exceptional roof systems that were built on the ground then craned into position on top of the boiler tank. These systems were engineered to withstand winds of up to 130 mph.
Bayer Plant, CA – This 120' clear span x 300' long RDS roof system was as large as a football field and connected to scaffold walls 30' high.
Intel Plant, OR – This RDS roof system spanned 110' x 300' and was bolted to a pit wall to allow the contractors (F.D. Thomas & Hoffman) to apply specialty coatings to the pit floor without interruption from constant rain.
You'll be amazed by what we can build!
Call us now
854.444.3918