Ship Enclosures
By using our patented curb system, we provide our customers with the guarantee of no water intrusion.
Enclosures for Ships and Dry Docks
Our curbing system's ability to prevent water intrusion into an RDS enclosure is unsurpassed. It has been proven time and time again. Uneven decks have historically caused significant water intrusion. This curbing system is especially effective in combating this problem as proven on Navy LHDs and Aircraft Carriers. Over the last few years, we have also constructed many enclosures on smaller ships. Our patented engineered system is designed to span the whole deck leaving no outside cut. We custom make each enclosure to achieve the perfect fit for each ship. Our project portfolio includes enclosures for Flight Decks, Focsle Decks, Rast Tracks, Cat Tracks, JBDs and our latest focus, Dry Docks.
RDS enclosures can be pre-erected on the pier and craned aboard in sections making the installation aboard ship considerably faster.

Aircraft Carrier Non-Skid Removal and Replacement
We received our first contract to supply containment during the replacement of non-skid on the deck of the U.S.S. Carl Vinson (CVN 70) in 2003. Since that time we have further refined our system and have been an integral part of the nonskid replacement process on ten Navy carriers and a large number of smaller Navy vessels.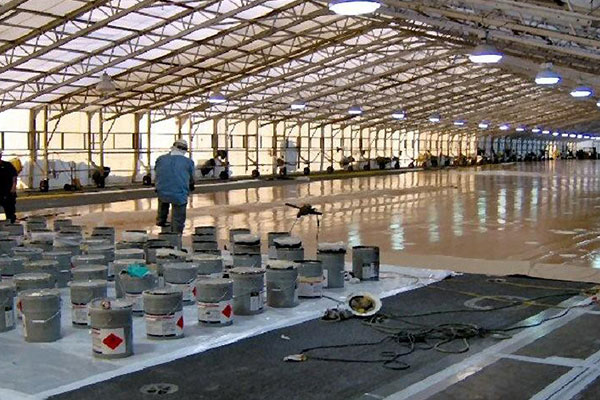 Rolling or Static Enclosures
The rolling systems we install on carriers are incredibly efficient. They are often immense in size ranging up to 120′ span x 500′ long. These massive portable buildings can be rolled around the deck easily with the help of only two forklifts. Water tests are performed to ensure the perimeter is sealed, and improvements are made continually to support the contractors that work inside them.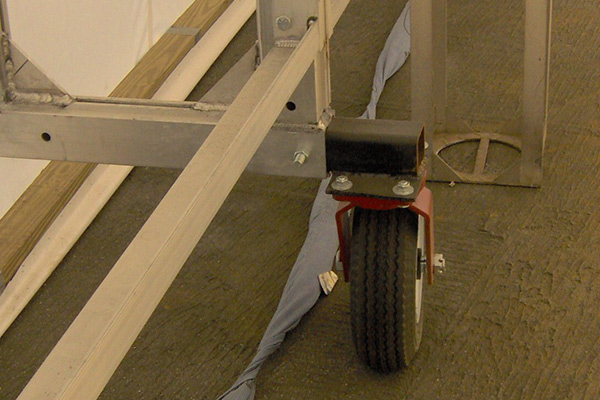 Dry Dock
We installed a dry dock demonstration enclosure at Metro Machine, Norfolk, VA some years ago. This RDS dry dock section was hugely successful and we are looking to develop additional dry dock enclosure systems over the next few years.
Internal Systems
Our most current internal system was produced for a project in the UK on the HMS Queen Elizabeth Aircraft Carrier. We have since designed a new version being utilized on the USS America in San Diego. Both of these systems are in use for the application of Thermal Metal Spray. The smaller internal enclosure makes it easier to control conditions and requires less labor to clean-up, which makes the overall process more efficient. We are now designing these internal enclosures with 20' lift-up side-doors, and adjustable gable-ends for easy insertion and removal of equipment.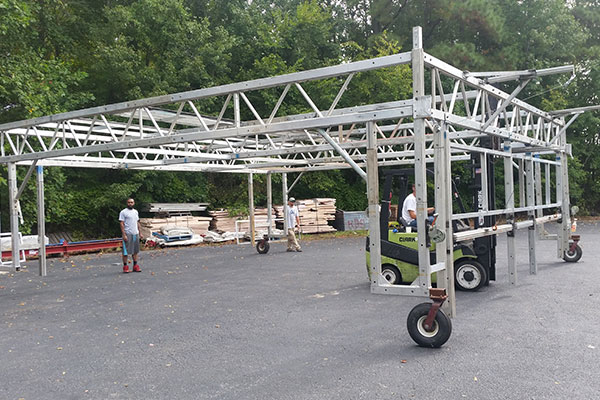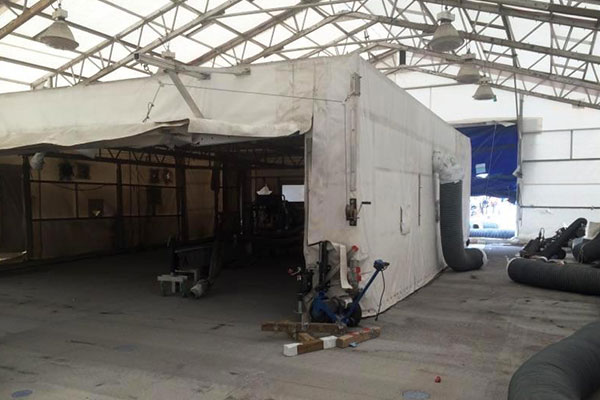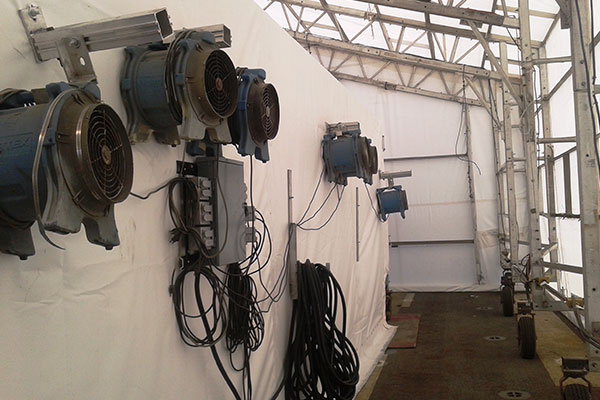 Ship Enclosure Projects
AMSEC
BAE Systems, UK – HMS Queen Elizabeth Aircraft Carrier
BAE U.S.
General Dynamics, NASSCO, EARL
General Dynamics, NASSCO, Norfolk
HII – Newport News
Marinette Marine
MARMC, NSSA – Ships & Aircraft Carriers
MHI Shipyard
Navy Research Lab (NRL) – Thermal Spray (TSS)
Naval Station Norfolk
Nelson Industrial
Sumitoma – USS Kitty Hawk & USS George Washington (Japan)
Vigor Shipyards – USS Lincoln, USS Carl Vinson, & USS Stennis
You'll be amazed by what we can build!
Call us now
854.444.3918